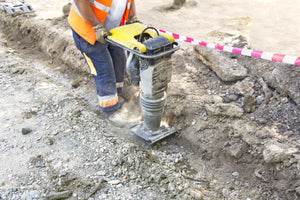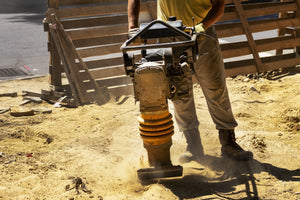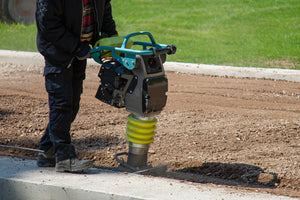 A Tamping Rammer is an effective tool for compacting cohesive soils. The smaller plate size allows for more focused and direct compactions which are handy on soils that need more force to properly compact.  Their slim upright design is great for use in trenches and tight spots, and since the force is more direct, you can add to each layer of a hole of the trench quickly. The Tamping Rammer can be used to compact the base of a road, a dike, building, etc. It can be used to backfill a gas or water pipe and cable. A nifty piece of equipment to ensure the stability needed to properly support structures, sidewalks, roadways, and more. We will deliver this with our expert operator and complete the task!
$68 per hour port to port, 4-hour minimum.
Call us at 866-775-2611 for booking!
Engine: 6.5HP 4 Stroke, 196CC
Start Type: Recoil Start
Fuel Type: Gasoline
Impact Force: 10,000
Ramming Frequency: 600-640RPM
Jumping Height: 60-65MM
Travel Speed: 9-12m/Min
Plate Size: 330 x 290mm
Impact Depth: 450mm
Efficiency: 200m/h
Oil Type: SAE 15w40
Fuel Tank Capacity: 2.2L
Compliant: EPA and CARB
Handle Height: 33-1/2″
Overall Dimension: 16″(W) x 29-1/2″(L) x 42-1/2″(H)
Tell us your uses for the Tamping Rammer and if we add it to our website, we'll give you 10% off your next rental! Share here: Uses for Tamping Rammer