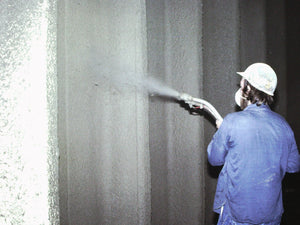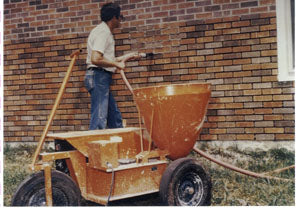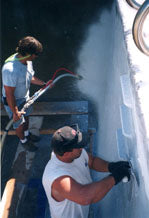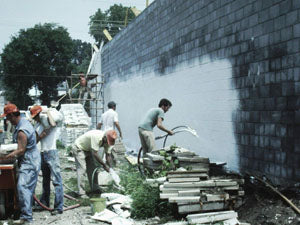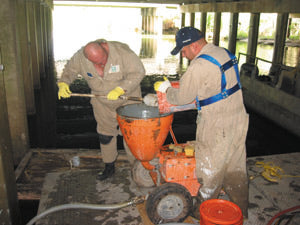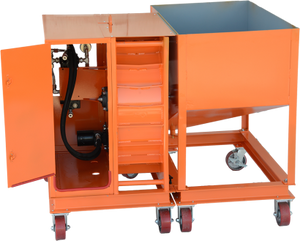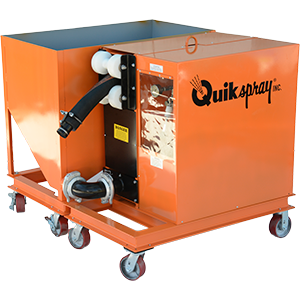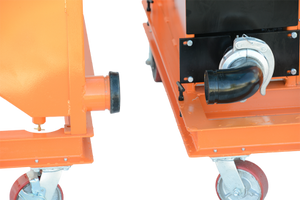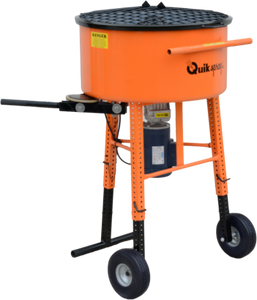 The portable 2" 220V peristaltic pump is simple, versatile, and reliable, its unique parts enable the movement of just about any viscous material including concrete, epoxy, and any other wet material no matter how thick it may be.  Its components are specifically designed to be used for cement/plaster interior and exterior coatings, stucco, veneer plasters, GFRC, GFRP, artificial scapes (rocks and waterfalls), fireproofing, acoustics, waterproofing, grouts, aggregated & non-aggregated epoxies and more.  With a narrow width of 38" by 54" length the unit can easily wheel in and out of the tightest operating spaces where larger equipment cannot travel.  150' hose is included at no charge.  The Mixer add-on creates an onsite grout factory.

Epoxy Pump rental rates include operator, please specify the material type that will be handled when placing the order. Onsite water, clean-out facility, and electricity are assumed to be available for use on site in the base rate.
Recommended for spraying: Cementitious Fireproofing, Acoustics, Stucco, Cement/Plaster Coatings, and EIFS.
Pump: $175 per hour port to port/4 hour minimum

Mixer: $150 per hour/4 hour minimum

Generator: $225 per hour/4 hour minimum ((if 220v site power unavailable))

Compressor: $225 per hour/4 hour minimum (for spraying applications)

On-site clean out bin and haul away $250 (free of charge if done onsite) 
Start times will be coordinated by the operator 1 day before.
Please note: additional cost may apply if the site location is outside of our typical service area. 

Specifications:

---
Capable of moving more heavily aggregated products, approximately 3/8" Aggregate
Moves approximately 6 cubic yards of material per hour
Excellent for shotcrete, stuccos, heavily bodied epoxies, self-consolidating concrete, pour & form, fireproofing material, and many more materials making this the most versatile pump in the world
Unlike other pumping systems, the peristaltic pump can cleanout in a matter of minutes using minimal water
Applications:
1. High strength concrete grout.
2. Structural epoxy grout for retrofitting and reinforcing applications (i.e. Five Star Products, Strong Tie Repair and Protection Systems for Concrete and Masonry)
3. Structural wood pile foundation repair.
4. Fireproofing
5. Veneer grouts
6. Surface Bonding
7. Broadcast aggregate
8. Pool plaster
9. Panelized
10. Marine
11. Concrete artwork & rock scapes
12. Tell us your uses for the Concrete/Epoxy Pump and if we add it to our website, we'll give you 10% off your next rental! Share here: Uses for Concrete/Epoxy Pump