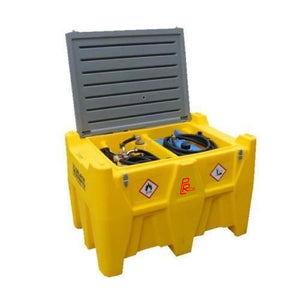 This is a 116-gallon red off-road diesel lockable polyethylene Carrytank that is designed to transport and transfer diesel where ever it's needed. It's perfectly suited for construction, industrial, farm, fleet, recreation and other markets, the electric pump system makes refueling simple and easy, the lockable hatch prevents theft, each unit comes with a preset combination pad locks with a client unique code. The unit can be swapped out for a full replacement, or on site refueling by the gallon is available.
Rented on a monthly basis. Price reflects monthly rate.
Refuel cost per gallon and $100 delivery/pick up fee apply.
Call us at 888-775-2611 to arrange booking.
116-Gal

 Weight-empty 56 lbs. 118 lbs.
Power Cable 13' 13'
Delivery Hose 13' 13'
Please note: additional cost may apply if the site location is outside of our typical service area.