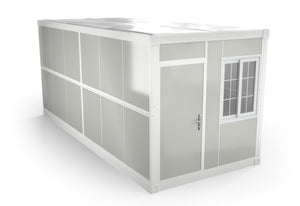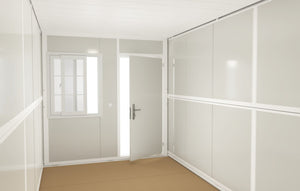 Our 20' portable site office are quick and easy to assemble and dismantle.  Available for rental on a monthly basis, this us a great choice when you need temporary flexible additional space.  We'll provide delivery and pick up service to your job site. 
Features interior pre-installed electrical outlets and continuous overhead LED light bar and AC unit.  Operable 3' x 6'8" entry door with deadbolt and 3' x 4' sliding window with security bars.
Container rental: $249/month
Delivery: $150
Pick up: $150
(Includes 2 tradesman for 2 hours to set up/breakdown)
Hoisting equipment excluded and offered separately if needed.  
Substrate preparation and blocking available on an hourly basis upon request if needed.
 Lead time: 10-14 weeks