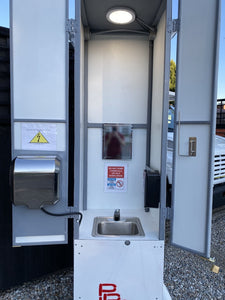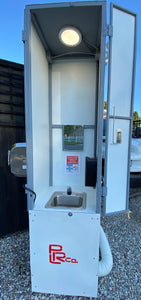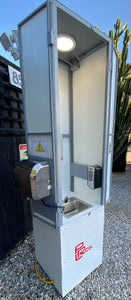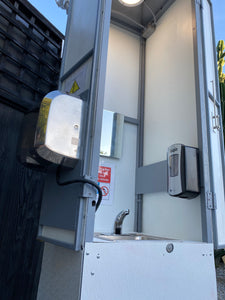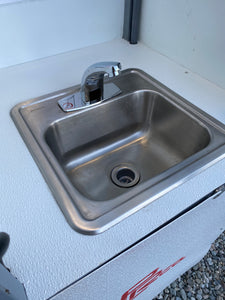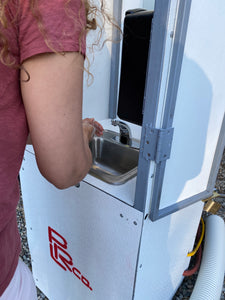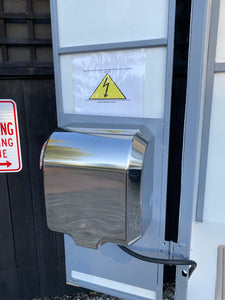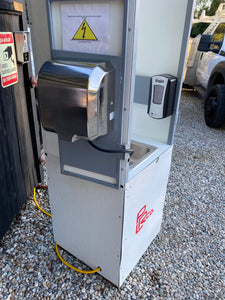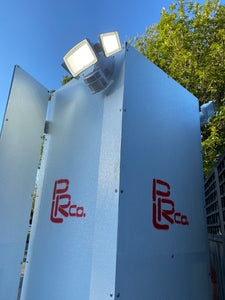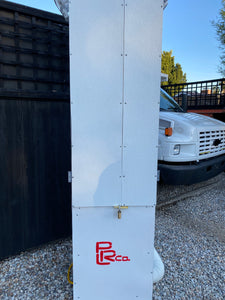 This portable handwash station is unique of it's kind currently available and can't be found in stores.  The touchless portable handwash station was thoughtfully constructed to provide a higher level of hygiene and cleanliness as encouraged by the Center for Disease Control (CDC).
It features an unlimited supply of 100-110°F of hot running water via a touchless faucet with a stainless steel wash bin.  Our standard model includes a touchless soap dispenser with antibacterial soap, touchless hot air dryer, motion detected lighting inside and outside of the unit.  The handles to open the unit is made of brass which the CDC has noted as having natural antimicrobial properties.  Optional additional features can be added.  
Up to two people may use the unit at one time
No water tank needed limiting your supply of hot water
Rented on a monthly basis
Installation and removal included in the first month's rental rate
Monthly service is included in the rental rate
Ideal for construction job sites, temporary events, entrances and exits of buildings
Convenient solution in a time of hygienic crisis
Dimensions:
Site evaluation required before station will be delivered (nonrefundable fee applies)
One-time delivery and pick fee applies and charged with first month's rental.
Optional rental protection plan available. Please choose corresponding plan.
Additional features can be found under On Demand Accessories

Please note: additional cost may apply if the site location is outside of our typical service area.